Dense Phase Vacuum (DPV) Loaded Conveyor
It Takes Superior Equipment to Get Superior Results
Nothing delivers greater flexibility than Cyclonaire's dense phase vacuum-loaded conveyors (DPV). These precisely engineered pneumatic conveyors allow you to unload bulk bags, trucks and/or railcars with minimal product degradation.
Standard
Carbon Steel
24 VDC Instrumentation
High-Level Probe
Butterfly Inlet and Outlet
Dual Setpoint Pressure Switch on Tank
Supply and Tank Pressure Gauge
Injector Air Supply Valve
In-Tank Filter for Venting to Atmosphere
Silicone VibraPads
Cyclonaire Blue Paint
Standard Options
304 Stainless Steel Material Contact
Cyclonaire White Paint
Vent to the Source
Venturi Silencer
Pressure Transmitters
Numerous Inlet Valve Options
Source Aeration
Neoprene VibraPads
Custom Options
Custom Colors/Coatings Available
316/316L Stainless Steel Material Contact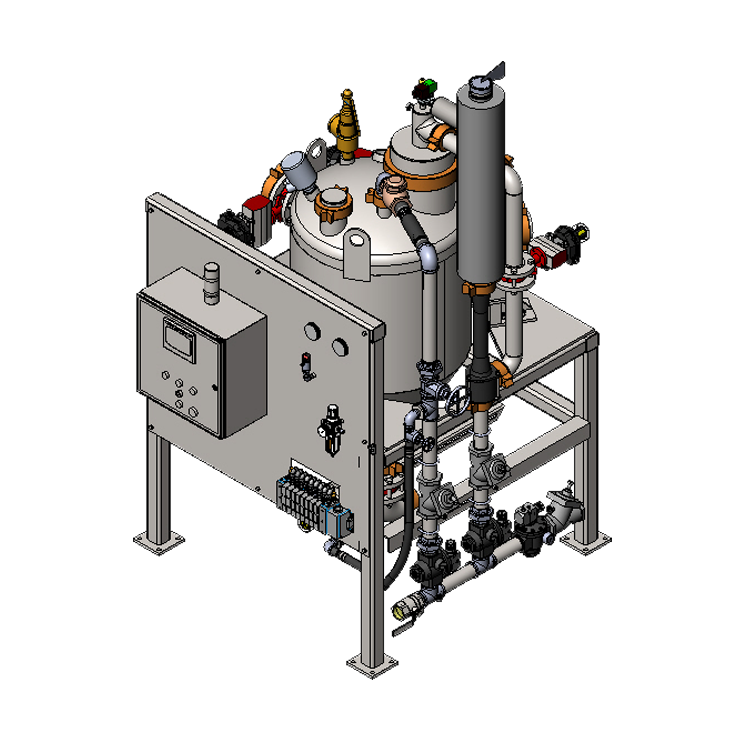 Integrate Greater Conveyance Simplicity into Your System
Single unit can pull from multiple sources and convey to multiple destinations. Prevents material cross-contamination via system purge or multiple convey lines. Settings are variable based on product being conveyed and transport distance to provide maximum rate with minimum degradation. Allows for an automated selection of the material destination to reduce the possibility of operator error.
Product Features
Maintain Product Integrity

High material-to-air ratios and low line velocities minimize abrasion and degradation.

Unique Design and Functionality

Our patented DPV systems vacuum load products from silos, trucks and railcars and feature top or bottom discharge.