Dense Phase Gravity (DPG) Loaded Conveyors
Go with a Dense Phase Conveyor That's Up to the Challenge
For transferring powdered, granular or pelletized products, nothing compares to the productivity of Cyclonaire's dense phase gravity-loaded bottom discharge conveyors (DPG-B). Using high-pressure air to achieve high material-to-air ratios, DPG-Bs minimize degradation and abrasive wear.
Standard
Carbon Steel
24 VDC Instrumentation
High and Low Level Probe
Protective Dual Butterfly Inlet
Dual Setpoint Pressure Switch on Tank
Supply and Tank Pressure Gauge
Injector Air Supply Valve
Silicone VibraPads
Cyclonaire Blue Paint
Standard Options
304 Stainless Steel Material Contact
Cyclonaire White Paint
Pressure Transmitters
Numerous Inlet and Vent Valve Options
Source Aeration
Neoprene VibraPads
Configurable for Load Cell Weighing
Custom Options
Custom Colors/Coatings Available
316/316L Stainless Steel Material Contact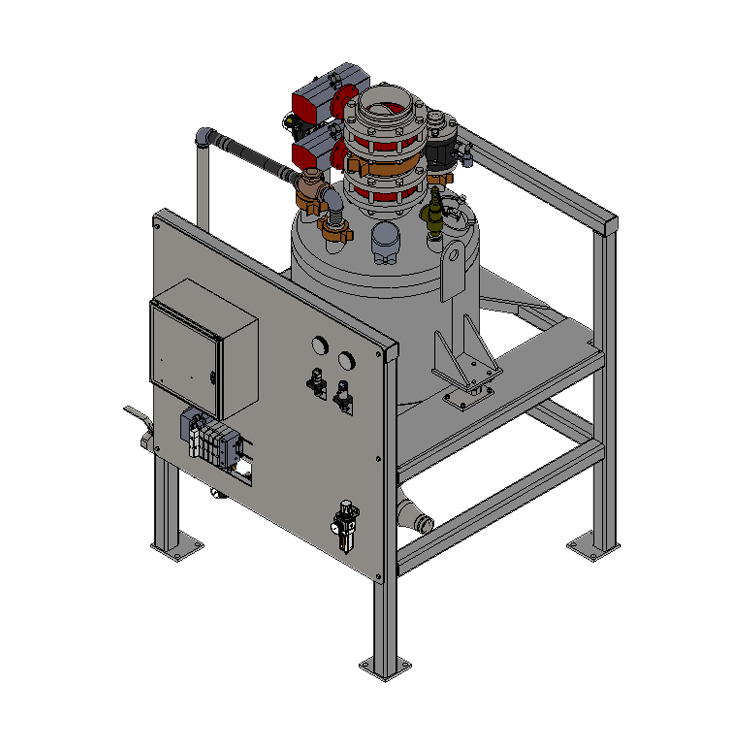 Minimize Dust and Reduce Energy Costs
Perfect for unloading silos, as well as inventory management when used with load cells. Built tough to handle highly abrasive and friable materials. Uses clean, dry compressed air to convey materials at low velocities. Reduces equipment wear and materials degradation.
Product Features
A Tough Industry Demands Tough Equipment

Gravity-loaded, bottom discharge transfer with 400+ TPH capacity makes light work of heavy loads.

Less Degradation

High material-to-air ratio and low line velocities help maintain material integrity.

Distance is No Problem

DPG-B conveyors successfully transfer materials over long distances.