Filter and Vacuum Receiver
Pressure or Vacuum Convey Application
Cyclonaire Filter Receivers are used for integrating dust filtration or separation into systems with larger pressure fluctuations requiring more plenum rigidity. They feature a round design for standard pressure rating of -15″ HG / +15″ HG make them well suited for both pressure or vacuum convey applications. Custom heavier-duty options are available for full vacuum and 14.5 psig pressure.
Standard
Robust carbon steel construction
24 VDC NEMA 4 enclosure
Differential gauge
Bottom-Removable Pleated Filter Cartridge
Filter Grid
Bird screen on exhaust outlet
Cyclonaire blue paint
Standard Options
PTFE-Coated filters
Differential Pressure switch
Differential Pressure transmitter
Back purge of differential available
304 Stainless steel material contact
120 VAC Controls
High-Temp Filters
Flange on exhaust outlet
Adaptable for vacuum pump usage
Custom Options
316/ 316L Stainless steel material contact
Surge hopper
Pressure rating up to 15 psig
Top-removable filters with access platforms
Explosion protection
Classified area enclosure
Exhaust orientation
Custom colors/coatings available
Broken bag detector
Autonomous (DP Switch) Control
Process Pressure Monitoring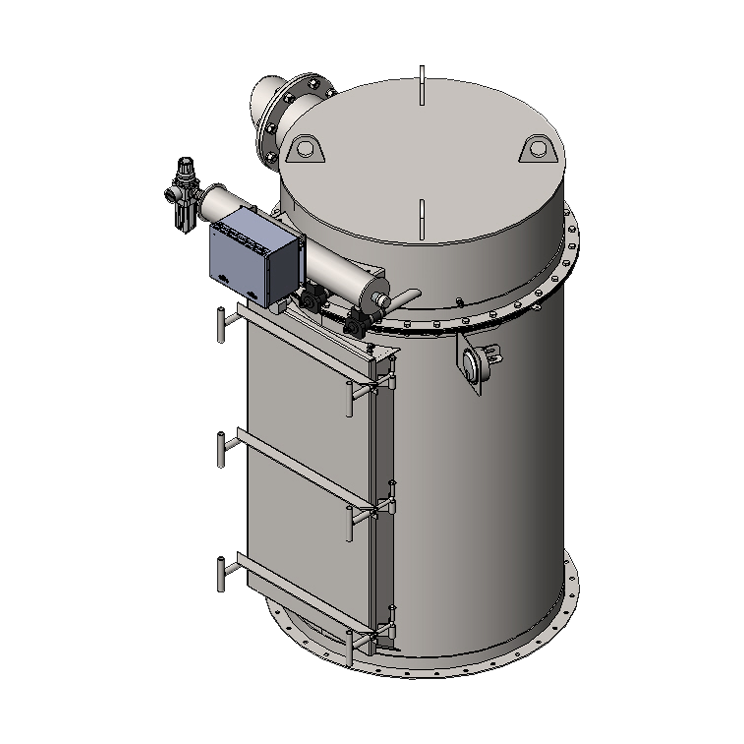 Product Features
Peak Performance

Filters are kept clean with reverse pulse cleaning uses 3-10 SCFM compressed Air depending on size to maximize filter life and ensure media effectiveness.

Service Alerts

Differential pressure gauges (or optional switches) for filter service indications.

Flexible installation Options

For inventory management, a surge hopper and load cells are common additions to this unit.